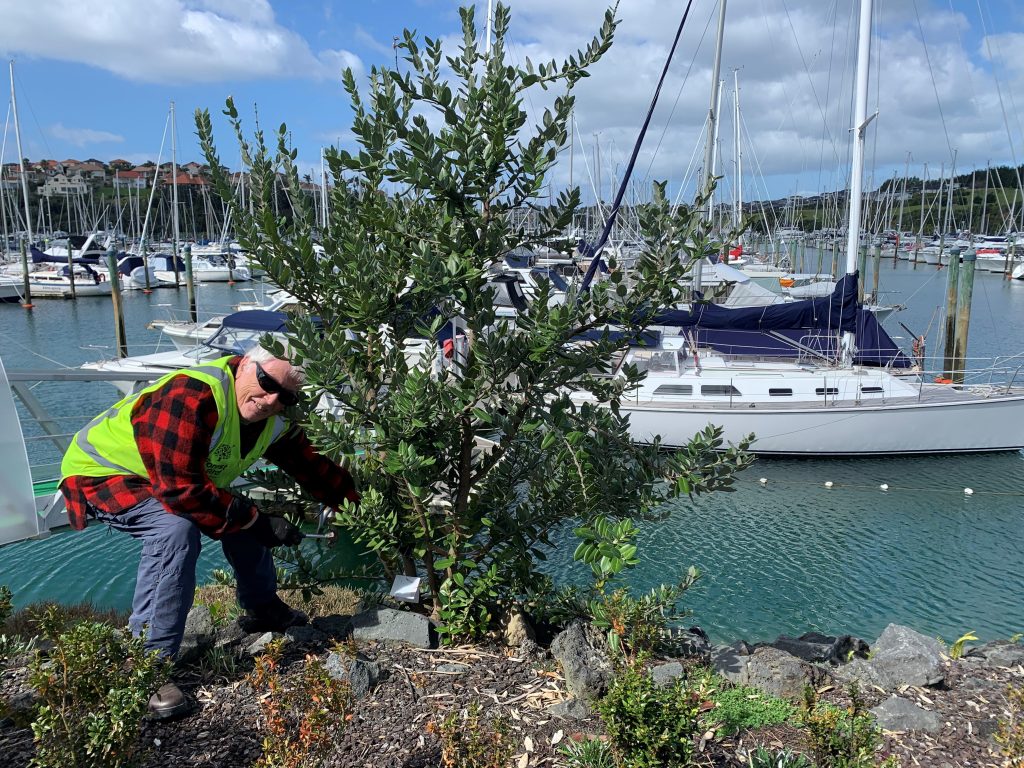 Forest & Bird volunteer Derek Kelsey
In 2021, Gulf Harbour Marina partnered with Forest & Bird's Pest Free Hibiscus Coast Project to support increased pest animal control around the marina and across the local area. The project aims to create a safe haven for native species on the Whangaparaoa Peninsula and beyond, enjoyed and cared for by the community.
The Marina is an important connection between the peninsula and the Hauraki Gulf Islands, many of which are pest free, so by ensuring we are doing effective predator control here in Gulf Harbour, we are also helping to keep these special places safe – as well as your boats! Forest & Bird volunteer Derek Kelsey can be seen on site here each week, checking traps and loading bait stations, do say hello if you spot his hi-vis vest! From time to time you might also see peanut butter loaded chew cards, these are for detecting rat or mouse activity by the toothmarks left behind.
We are pleased to report that thanks to our team's efforts, our latest monitoring round showed no pest activity around the marina, with only one of 28 cards being chewed, located right out beyond the neck of the breakwater. During 2022 / early 2023 there was a lot of pest activity on the far side of the marina property, beyond the fuel dock, with a lot of bait being taken, however this is now well under control.
Pest Free Hibiscus Coast operates a network of over 2200 pest animal control devices targeting rats, possums, stoats, weasels and hedgehogs running from the boundary with Shakespear Regional Park all the way to Hatfields Beach on public land and large private blocks. A small team of staff and an army of 158 volunteers looks after them, and it's really starting to make a difference! The project reports that monitoring shows significant decreases in rat activity, and possum numbers are now very low.
However there is still a lot of work to be done, you can support Pest Free Hibiscus Coast in 3 ways:
Sign up for a backyard rat trap and set it regularly, there are now over 1600 people doing this.
Become a volunteer, either look after a line of traps, do some monitoring or promote the project in your community as a street coordinator
Donate to Forest & Bird, tagging your donation to Pest Free Hibiscus Coast.
If you notice any pest activity around the marina please contact Project Manager Jenny Hanwell on j.hanwell@forestandbird.org.nz. For more information about how to get involved, visit www.forestandbird.org.nz/how-can-you-help-pfhc.