Our Green Initiative
At Gulf Harbour Marina, the protection of our natural environment and animals is just as important to us as it is to the wider Hibiscus Coast community and New Zealand. We strive to reduce our footprint wherever we can and promote best practices around protection of our native fauna, resource recycling and alternative options.
Water Recycling
We catch all the water from the hardstand, including from the washdown bays, along with any rainfall and process it through our large settlement chambers and sand filter system. The result is good quality water that previously would go out into the adjacent creek. The water is now diverted through more filters into new storage tanks at the highest point in the yard. These tanks then gravity-feed back into our water blaster header tank to be used again to clean boats and flush engines etc. We are saving around 20,000L of water per month on water blasting, all of which has come from rainwater and recycled rainwater. We also give additional recycled water to our trades on site to help enable their businesses.
Pest and Plant Programme
For several years we have supported our pest and plant program. From a pest perspective we have implemented traps around the marina as well as having open days to give free traps and education to the community around what they can do to help with the control of rats, mice and possums. This is particularly important to us given our close proximity to Tiritiri Matangi Bird Sanctuary and Shakespear Regional Park .
From a plant perspective, we are replacing non-native plant life in the area with native plants around the marina and any other time we do redevelopment.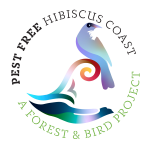 In 2021, we added to the scope of this programme by commencing a full pest animal control programme in partnership with Forest & Bird's Pest Free Hibiscus Coast. By connecting with their wider pest management programme, we reduce the likelihood rats reaching our nearby pest-free islands.
Watch out for Derek, our local Forest & Bird volunteer, who is on-site at the marina every week. Feel free to ask questions about the programme!
Recycling and Disposal
We have a number of recycling stations around the Marina. We put an emphasis on recycling over general rubbish disposal, with allocated and separated stations.
We also have dedicated disposal stations for:
Batteries
Expired flares
Paint and thinners
Used oil
Zinc anode