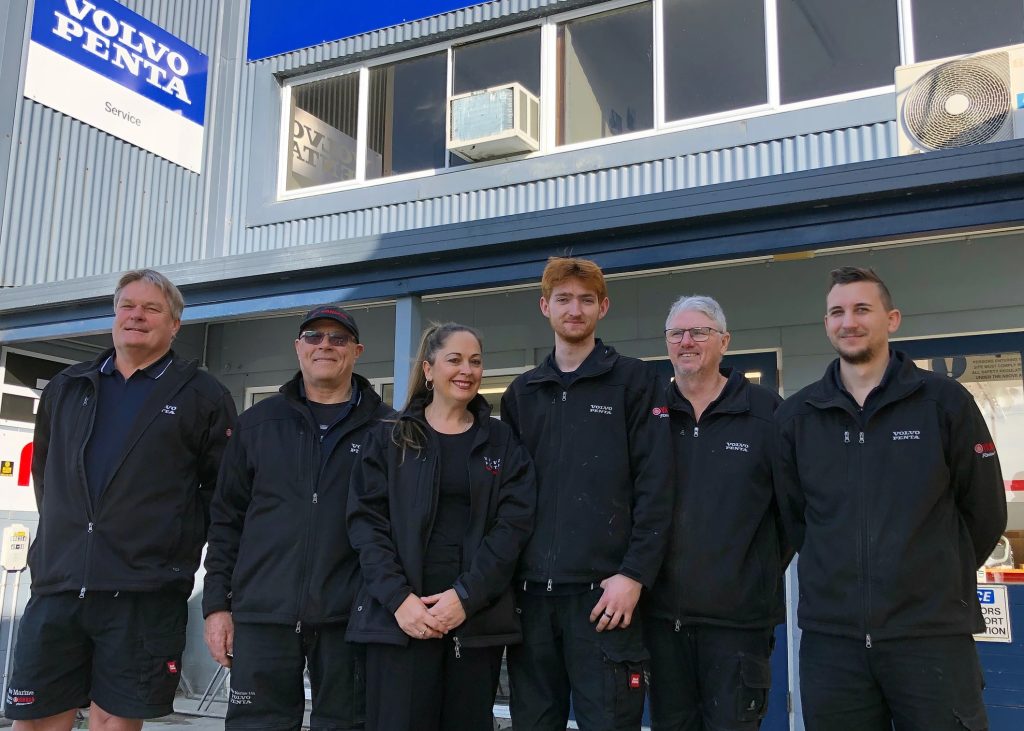 The Ovlov Marine Gulf Harbour team – Adam, Andrew, Debra, Shaun, Vernon and Jayden
After celebrating 45 years in the Auckland marine industry Ovlov has opened it's third branch here in Gulf Harbour, adding to the well established central Auckland branch, and head office in Orams Marine Village and Ovlov Marine Pine Harbour. "As New Zealand's largest Volvo Penta dealer, and having started my career up here in Gulf Harbour, it made sense to expand our sales and services into the Gulf Harbour region" says owner and Managing Director Lachlan Trembath.
Ovlov Marine Gulf Harbour (OMGH) have commenced their new branch operations in the previous Seaquip Marine Services Ltd premises, after owner Ralph Kearton retired. "It was a seamless transition with all the Seaquip staff joining the OMGH team, and with the addition of Adam Hatfield as General Manager" adds Lachlan.
Adam brings a wealth of knowledge and industry experience to the business, having worked alongside Lachlan at Ovlov Marine for many years, since 1999. Adam's background started in the navy working in heavy diesel, then looking after the SAS Ribs, ten years working with Ralph at Seaquip, Flagship for 5 years before taking up this opportunity to head the Gulf Harbour team.
The team consists of three highly qualified and experienced staff including; Vernon, who has a fitter and turning background, Andrew who comes from an automotive and computer diagnostics background, Shaun is fully qualified as a motor mechanic having worked at GMS in the Auckland CBD, and Jayden who is just coming out of his mechanical apprenticeship. Plus long serving Debra who looks after the administration and parts assistant – and is the all important friendly receptionist. Adam is also currently looking another qualified servicemen to add to the team.
"The great advantage of running a comprehensive workshop and a qualified team here in Gulf Harbour Marina is we can offer a wide range of mechanical, electrical, machining, milling and welding services right here, and we don't have to travel, saving valuable time and money" says Adam.
Adam quips "there are never any silly questions, happy to talk and we are here to help – don't be a stranger, if you have any concerns just come in and ask. We always look forward to meeting new customers and providing a great service".