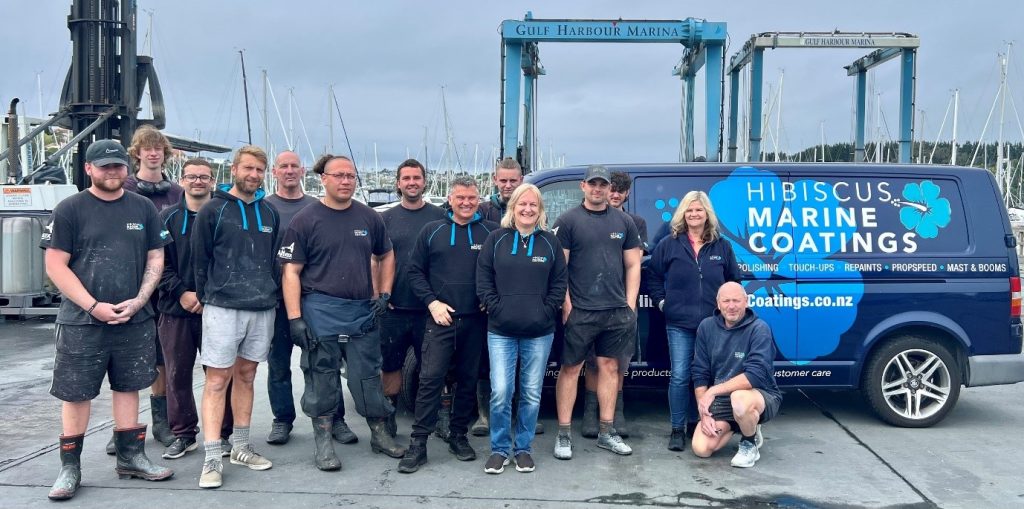 The team at Hibiscus Marine Coatings
Antifouling paints are a critical component of boating, protecting your vessel from the relentless assault of marine life. However, choosing the right antifouling paint relative to how the boat is used is important, and choosing the correct paint can maximise your protection and ultimately reduce costs.
Types of Antifouling Paint
Ablative Antifouling: Ablative paints slowly release biocides as they wear away, making them suitable for slower boats and boats kept in marinas. They continuously expose fresh layers and release biocides to combat fouling.


Hard Antifouling: These paints provide a robust, solid barrier that resists marine growth. They are ideal for boats that are trailered, travel at high speeds or can be frequently and lightly scrubbed, or wiped down with a soft cloth, for example racing yachts.


Hybrid Antifouling: Hybrid paints offer a middle ground between hard and ablative options, making them versatile for boats with mixed usage patterns.


Correct Application Matters
Antifouling your boat is a demanding and time-consuming task. Therefore, it's crucial to highlight the necessity of accurate preparation and application. Considering professional assistance can ultimately prove to be a cost-effective choice, ensuring the selection of the right paint system and achieving the correct preparation and application.
When applied correctly, antifouling paint can deliver excellent protection for as long as two years, and in some cases, even longer. This not only keeps your boat free from fouling but also enhances its speed and fuel efficiency.
On-going Maintenance
It's worth noting that no antifouling can guarantee a completely slime-free hull. To maintain a cleaner boat bottom, gentle wiping or scrubbing while snorkelling in a serene and non-restricted bay can also help keep marine life at bay, or periodic lift and wash procedures are recommended. Furthermore, antifouling paints work best when boats are regularly used, as they are designed to function optimally while in motion.
Paint technological advances
Marine paint technologies and methodologies are always improving. One such advancement is the emergence of silicon, as an alternative. While it comes at a cost approximately twice that of conventional antifouls, when you factor in both product and preparation/application expenses, it offers an impressive service life of up to 90 months.
Silicon is an advanced fouling defence coating and ideally suited for vessels operating with long service intervals and/or very long idle periods, particularly as the price levels align with market acceptance.
Hibiscus Marine Coatings apply silicon antifouling however "it's not for everyone as it often requires having confidence in owning your boat longer term, and currently it only represents a small percentage of our antifouling work, in saying that it is a very effective system", says owner Carla Dukeson.
Hibiscus Marine Coatings began its journey eight years ago, creating a comprehensive paint shop along with onsite yard work, here in Gulf Harbour Marina. Their services encompass everything from painting boats top-to-bottom and from bare surfaces through to the finished product, including polishing, waxing, glossy paint applications, antifouling, Propspeed, and paint repairs. Carla adds, "We take immense pride and satisfaction in our work, striving for top-quality finishes on every boat."